9 Exciting Shades
Bored of dull colors? Amber has 9 exciting shades, you can pick your favorite shades based on your mood or outfit.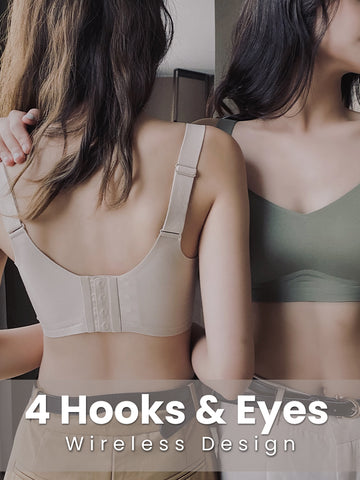 4 Hooks & Eyes
Amber has 4 hooks & eyes in 4 rows, we will feel more secure and it is super sturdy. Due to its wireless design, say no more to back pain, and poking.


Jelly Gel®
 Support
This is an entirely new category with our exclusive patent, a revolutionary technology called "Jelly Gel®"
 A new species between wired and wireless, a super flexible gel, we call it "JELLY"
Seamless & Stretchy
This bra is made of durable, ice-silk fabric that embraces your body well. Features neoprene paddings that enhance your bust-line while remaining super lightweight and breathable. Get the perfect fit and you can barely feel its existence.