They're So Comfort!
Forlest is an undergarment company, specialize in Jelly Gel™ bras. Jelly Gel™ is like a flexible gel, and there's no wires, super comfortable.
Jelly Gel™ Mabel+ No-wire Bra for Big Boobs Up To I Cup – forlest
The first bra is Violet Ash color, like this purplish tan color. It's comfortable, you see has no wires but the support is still there. They have thick straps, and is adjustable. This one has four hooks, and then it's three going down and four going across.The cup size look really big, but it's not, it's just an illusion.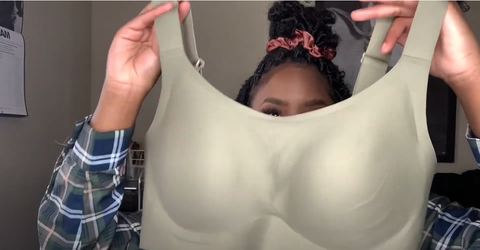 Jelly Gel™ Amber & Amber+ Stretch Skin-friendly Minimizer From DD To I – forlest
The last one, here's the olive one, so cute, I love these colors. This one has padding as well,  the straps are thick, and have four of  little hooks. It's very thick, pretty wide, have support, a V cut. This one i can work out in this like a sports bra as well like the comfort and then the support perfect like. 
Jelly Gel™ Amber & Amber+ Stretch Skin-friendly Minimizer From DD To I – forlest