When it comes to traveling, comfort is key, and this includes the type of bra you wear.
Choosing the right travel bra can make all the difference in ensuring a comfortable and enjoyable trip. Here are some tips to help you choose the best travel bra:
1. Choosing A Moisture-Wicking Bra:
Traveling can be sweaty, so a bra that can keep you cool and dry is essential. Look for bras made from moisture-wicking fabrics such as modal or cotton. 
This materials are designed to pull sweat away from your skin and allow it to evaporate quickly, keeping you feeling dry and comfortable. 
2. Choosing A Wireless Bra:
 Wires can dig into your skin and become uncomfortable during long flights or car rides. Wireless bras offer the support you need without the discomfort. 
Additionally, They provide a more natural shape and allow for greater movement and flexibility. Overall, wireless bras are a comfortable and practical choice for everyday wear and light exercise.
3. Choosing A Supportive Bra:
Think about the level of support you need. If you have a fuller bust, you may want to opt for a bra with wider straps and a thicker band for added support. 
Additionally, make sure to measure yourself regularly to ensure you are wearing the correct size bra and adjust the straps for a comfortable fit.
4. Choosing A Skin-Friendly Bra:
Consider the material. You want a bra that is soft, stretchy, and breathable, so it won't irritate your skin or constrict your movement. Putting on comfortable, breathable bra is one of the best things you can do in the summer heat.
5. Get A
Drawstring Bag To Store Your Bra

:

This velvet drawstring bag is an essential item for us who wants to keep our undergarments clean and hygienic while on the go. With its high-quality materials and expert design, this bag is perfect for packing all our essential undergarments.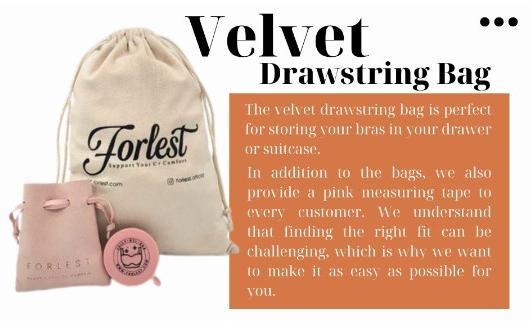 At Forlest, we offer a range of wireless bras designed with comfort and support in mind. Our bras are made with Jelly Gel material for ultimate comfort and breathability, and they're perfect for traveling. Don't let an uncomfortable bra ruin your trip - upgrade your travel game with Forlest.