The Versatile Design
Tired of a pullover camisole but love the comfort? Tired of a wired bra but love the support? Head up, Amber+ is the essential bra you need. She provides more coverage and comes with a 4-hook-and-eye closure. Now you can enjoy the comfort and the support simultaneously. She is also available in 5 exciting shades, I love the Matcha a lot, so what's yours?

Wider Coverage, Better Support
With 1.2" width adjustable straps, no more annoying shoulder digging and burning red marks. With 5.5" height side wings, no more armpit fats, bulges or muffintop. This is what we, curvy girls, need: wider coverage, and better support.


Wireless & Supportive
Jelly Gel®
 is a new species between wired and wireless. Made from silicone, it replaces thick hard wired in terms of supporting our girlies.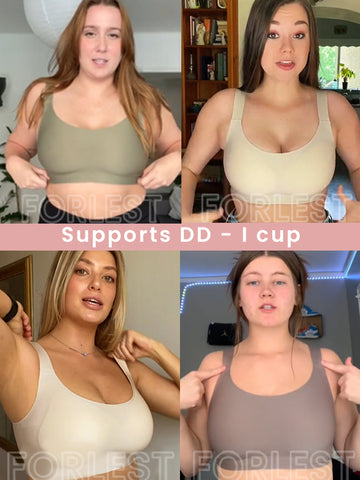 Must-Have Essential For Cup DD-I
Jelly Gel®
Amber+ is proven to support from cup DD to cup I. Using US standard cup sizing, Amber+ is the must-have wireless bra for daily wear.