Best Bra Ever??? Plus Size Friendly?? || Forlest Honest Lingere Haul and Review!!
You guys, I'm gonna give you a complete and honest review on Forlest. It inspired to provide supportive and comfortable bras for women. They are establishing an entirely new category with their exclusive patent rights, a revolutionary technology known as Jelly Gel™, which get into that in a second new species between wired and wireless, a super flexible gel called it Jelly.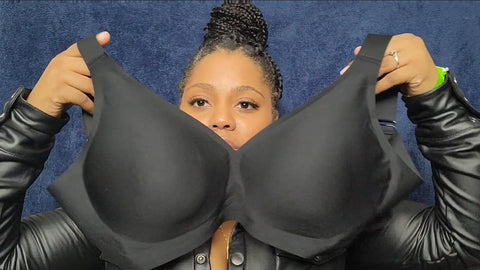 So I do like the idea and these bras. I have to say that within wearing the bra, there was a lot of support and very comfortable. It wasn't the sexiest bra but sometimes i don't need that, I need the support especially with certain T-shirts things like that I'm looking for the support and wires. Also wired bras tend to come out of my bras whether they're the really expensive bras or knives. Once you wash your bra so many times, the wires come out the bend, they lose form, so you're constantly replacing bras. So i did like an idea that there are no wires.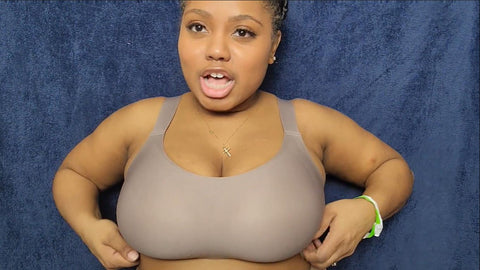 so let me show you the bra that i've worn is Violet Ash color. The strap on the back comes out but the strap up front does not come out. So it is adjustable but also prevent taking off. Let me see, this bra is 
extra extra large and the Jelly part is in here.The cup is removable, I like the fact that I can put it back in. I can reposition it. I love that with any like bra things like that so it is fit.
How thick the straps are! As I said, this wouldn't be the ideal bra for a very strappy T-shirt or onesie, but it is really good if you're gonna wear a sweater, a turtleneck, a bodysuit that's more covered, or maybe it has a v-cut but not like the arms are out or your cleavage is out.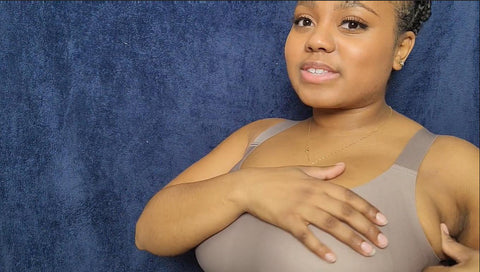 Okay so this is my second time wearing it. It makes my body look better in my outfit, and then it just gives the right amount of push-up, like I don't feel like my boobs are sagging, and I feel like they are secure. This jelly is underneath, it definitely does push them up without hurting me, without the wire sticking me. I don't have to worry about any of that.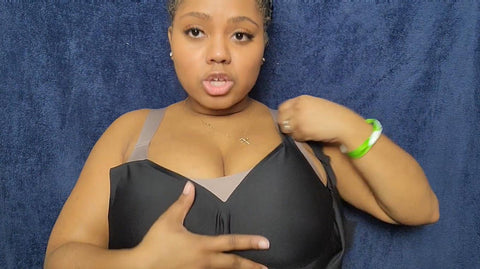 I did not try the black one on, the only difference is that this one has a v cup.This one's built like a sports bra and this one has more of a v-cut. This one is just regular coverage, it does not have a v cut, it's a scoop neck, it's more like a sports bra.