Trying Bras From FORLEST
Jelly Gel™ Mabel Skin-friendly Stretch Sexy Bra
Jelly Gel™ Paula Nonfeel Wireless T-shirt Bra
Forlest 
uses a wire-free technology called Jelly Gel™. You can see the gel lines in the band which provide support. They are also seamless and come in a variety of styles. The first Bra I tried was the
Jelly Gel™ Paula Nonfeel Wireless T-shirt Bra
.  I'm trying this bra in Scarlet, which is such a beautiful shade. 
They also sent along matching Anti-Baterial Premium Nonfeel Panty. 
Finding the right bra can be a difficult process and that's why so many women wind up in the wrong size or style. But the moment I put this bra, I was in heaven. This fabric is so soft and the fit is so comfortable that it feels like wearing nothing. The
Paula Bra
is made for T-shirts so it has a higher neckline and a wider band with four sets of three eye hooks for a great range of adjustability.
Jelly Gel™ Mabel Skin-friendly Stretch Sexy Bra
The next bra that Forlest sent over was the Jelly Gel Mabel Skin-Friendly Stretch Sexy Bra. This bra set in blush is soooo pretty! I love all the colors, they're all lovely, but blush is my absolute favorite in anything. The Mabel bra has all the perks of the Paula, but it has a deeper neckline and a thinner band with only four sets of two eye hooks. But, just like the Paula it feels like wearing nothing and creates a completely smooth silhouette.
Jelly Gel™ Mabel Skin-friendly Stretch Sexy Bra
As is the standard, the straps are fully adjustable and the inside of the bra has small openings so that you can remove the padding for washing. 
I've struggled for years to find just the perfect bra. Something with coverage, comfort, and a little padding. These bras and underwear are supremely comfortable and totally affordable. Forlest has just become my go-to for modern support.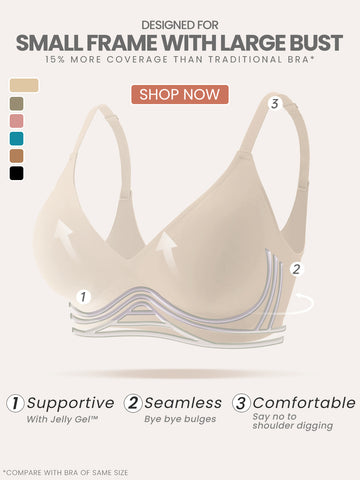 Author:
Leandra Kapity from Bleuavenue.com